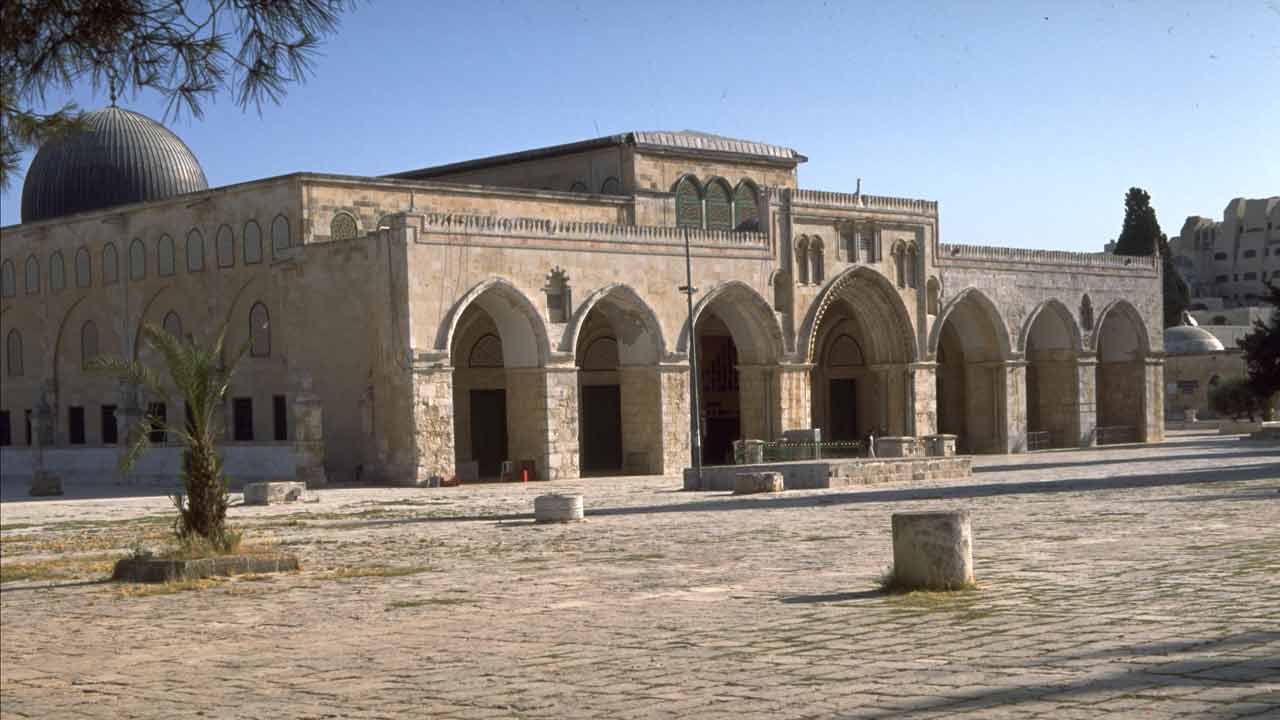 AFTER COMPLETION OF the Dome of the Rock, construction began at the site of the original timber mosque built in the time of 'Umar. A vast congregational mosque rose up, accommodating more than five thousand worshippers. Originally commissioned by 'Abdul Malik ibn Marwan, it is thought to have been completed by his son Al-Walid in 705 CE. Every Friday prayer, the Jami' al-Aqsa prayer hall overflows, with thousands of worshippers who must make their prayers outside in the courtyards of the vast open expanse of the entire al-Aqsa Mosque.

The building itself is still often referred to eponymously as Masjid al-Aqsa, but historically it has been referred to as Al-Jami' al-Aqsa, and more recently as Masjid Qibli, to clarify its correct relationship to the whole area of al-Aqsa Mosque, which includes not only this congregational prayer hall and the Dome of the Rock, but all its surrounding courtyards, schools, fountains, gardens, minarets and other structures within an area of over 40 acres located at the southeast corner of the old city of Jerusalem.

Jami' al-Aqsa and the Dome of the Rock

While the Dome of the Rock was constructed as a mosque to commemorate the Prophet's Night Journey, Jami' al-Aqsa became a centre of worship and learning, attracting great teachers from all over the world.

It has been modified several times to protect it from earthquakes, which sometimes occur in the area, and to adapt to the changing needs of the local population. The form of the present structure has remained essentially the same since it was reconstructed by the Khalif Al-Dhahir in 1033 CE. It is said that he did not alter it from the previous architecture except to narrow it on each side.

"The Messenger believes in what was sent down to him from his Lord.
And the believers; each one believes in Allah and His angels
and in His books and His messengers.
We make no division between any one of His messengers.
And they say: We hear and we obey. Oh Lord, grant us Thy forgiveness;
unto Thee we return."
Qur'an 2:285
"The Messenger believes in what was sent down to him from his Lord.
And the believers; each one believes in Allah and His angels and in His books and His messengers.
We make no division between any one of His messengers.
And they say: We hear and we obey.
Oh Lord, grant us Thy forgiveness;
unto Thee we return."
Qur'an 2:285