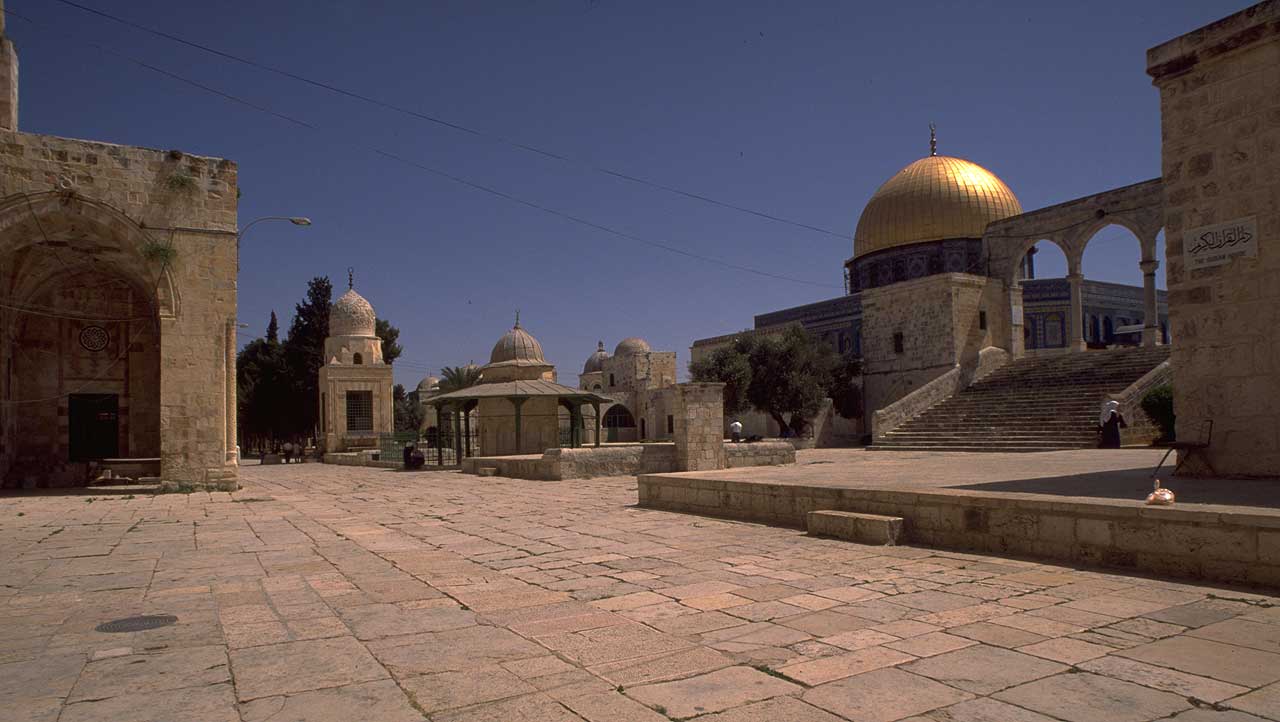 THE IMPORTANCE OF Al-Aqsa Mosque in Islam is reflected in the wealth of smaller structures which surround the Jami' al-Aqsa prayer hall and the Dome of the Rock. Constructed both to commemorate and to extend the functionality of the site as a religious and educational centre, they are too numerous to mention in detail here, other than to highlight some of the most significant:

The Golden Gate
Dating back to Umayyad times, the Golden Gate's two vaulted halls lead to the Door of Mercy, Bab ar-Rahmah, and the Door of Repentance, Bab at-Tawba. Imam al-Ghazzali is thought to have written his Revival of the Religious Sciences while living above these gates and teaching in Al-Aqsa.

Dome of the Chain
Directly east of the Dome of the Rock, the Dome of the Chain was built by 'Abdul Malik ibn Marwan and marks the exact centre of the Sanctuary. 

Dome of the Prophet
Restored in 1538CE by Muhammad Bey, the governor of Jerusalem.

Dome of the Miraj
Commemorating the Prophet's ascension. Restored in 1200AD.

Dome of al-Nahawiah
Built in 1207CE by Amir Hassan ad-Din, as a school of literature.

Dome of the Hebronite
A 19th century building dedicated to Shaykh Muhammad al-Khalili. 

Minbar of Burhan al-Din 
Originally built in the 7th century, this open-air pulpit is named after the 14th century Qadi of Jerusalem.

Musalla Marwan
Just below the paved courtyard in the southeast corner of the Sanctuary lies the vast vaulted subterranean area referred to mistakenly as Solomon's Stables. The actual construction is Umayyad, dating back to the 8th century, its original purpose to level the courtyard above.

Ancient Aqsa
Directly beneath the eastern half of the Jami'a Aqsa prayer hall is another subterranean area, leading from the courtyard in front of the building to the Double Gate in the southern wall of the Sanctuary. Sealed for hundreds of years, this gate led to the Umayyad palaces which once lay to the south.

The Islamic Museum
An extensive Qur'an collection, and Islamic ceramics, coins and glassware stand together with guns, swords and daggers in the oldest museum in Jerusalem. A unique group of architectural elements help document the history of Al-Aqsa Mosque.